Elevating Tree Care: The Art of Limb Walking with Earnest Tree Service & Landscaping
---
In the world of tree care, precision and expertise matter, and at Earnest Tree Service & Landscaping, we take it to new heights—literally! One technique we use is limb walking. Our skilled team navigates the treetops with finesse, ensuring your trees receive the royal treatment they deserve.
What is limb walking? Limb walking is not just a service; it's an art form. Our seasoned professionals use this technique to access the highest branches of your trees, allowing for targeted and meticulous care. Whether it's pruning for optimal growth, enhancing the overall health of the tree, or safeguarding against potential hazards, limb walking is the key to maintaining the beauty and vitality of your trees.
The Benefits of Limb Walking: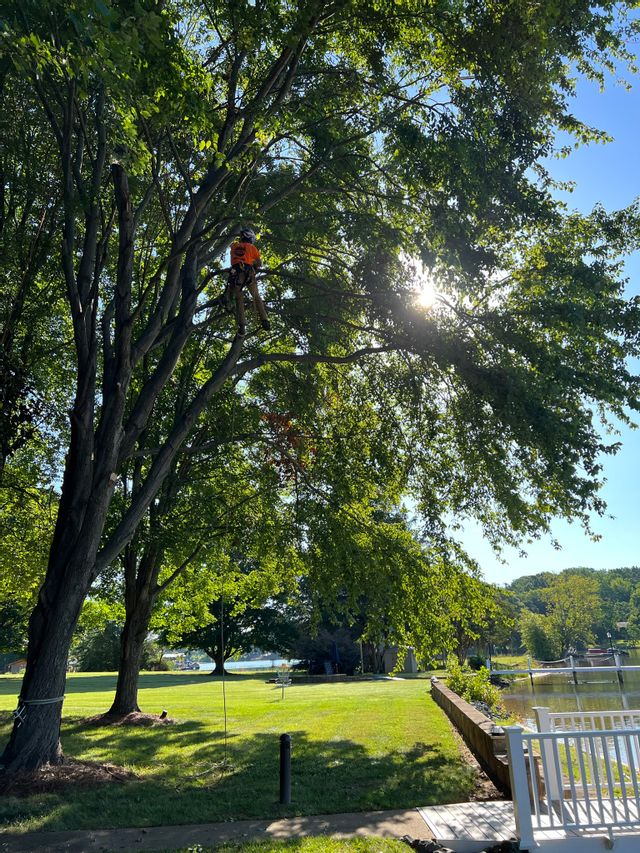 1. Precision Pruning: Limb Walking enables us to reach and trim branches at the perfect angles, promoting balanced growth and maintaining the natural shape of your trees.

2. Enhanced Tree Health: Our experts can assess the health of your trees up close, identifying and addressing issues before they become major concerns.
3. Safety First: By identifying and addressing potential hazards in the canopy, limb walking ensures the safety of your property and loved ones below.
Ready to Elevate Your Tree Care?
Give your trees the VIP treatment they deserve. Contact Earnest Tree Service & Landscaping today for our FREE estimate. Our team of experts are ready to bring out the best in your trees, ensuring they stand tall and proud for years to come.